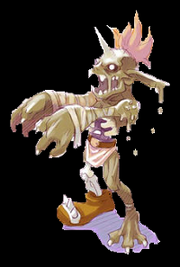 They are categorized as a species, but since they are monsters that have come back to life, they aren't technically a species. Because of their smell, they're generally hated, but they do have a cult following. Most undead are weak, but those of the King variety are known to be as strong as an overlord.
Aptitudes
[
]
Undeads' Aptitudes are progressive:
HP (Hit Points)
[
]
SP (Special Points)
[
]
ATK (Attack)
[
]
DEF (Defense)
[
]
INT (Intelligence)
[
]
SPD (Speed)
[
]
HIT
[
]
RES (Resistance)
[
]

Disgaea: Hour of Darkness Wiki thrives to be mobile-friendly!