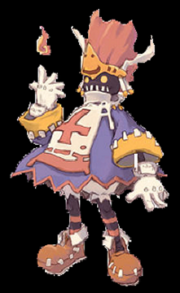 Faeries are demons that even appear in the Human world. In the Netherworld, their magic powers get dispersed, so they wear a special cape to prevent it. When it gets angry, a Faery swallows its enemy with its huge mouth. Unlike other demons, faeries have strong bonds within their species.
Aptitudes
[
]
Faeries' Aptitudes are progressive:
HP (Hit Points)
[
]
SP (Special Points)
[
]
ATK (Attack)
[
]
DEF (Defense)
[
]
INT (Intelligence)
[
]
SPD (Speed)
[
]
HIT
[
]
RES (Resistance)
[
]

Disgaea: Hour of Darkness Wiki thrives to be mobile-friendly!